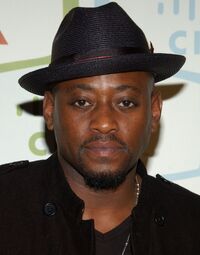 Omar Hashim Epps is an American actor, rapper, songwriter, and record producer. Born on July 27, 1973, in Brooklyn, New York, Epps also has a sister name Aisha Epps. In 2006, he married Keisha Epps and they have three children, Amir Epps, K'mari Mae Epps, and Aiyanna Epps. Interested in writing since the age of ten, Epps went to LaGuardia High School of Music, Art and Performing Arts in New York.
Epps has starred in over 39 movies and TV shows including House, Love and Basketball, Juice, Higher Learning, The Wood, In Too Deep, The Program, Against the Ropes, The Nod Squad, Major League II, First Time Felon, Scream 2, Don't Be a Menace in South Central While Drinking Your Juice in the Hood, Dracula 2000, Deadly Voyage, Breakfast of Champions, Alfie, Big Trouble, Conviction, Daybreak, A Day in the Life, Brother, Perfume, You, Me, and the Circus, Street Justice, MTV 20: Jams, Here and Now, and more.
Along with his acting talents, Epps invests and serves on companies like RockLive, Plus Capital, ThinAire, The Creative Coalition, and Gui.de. He is the owner of BrooklynWorks Films, a production company supporting a non-profit based Foundation helping kids.
He plays the role of Martin Bellamy on ABC's Resurrection.
Ad blocker interference detected!
Wikia is a free-to-use site that makes money from advertising. We have a modified experience for viewers using ad blockers

Wikia is not accessible if you've made further modifications. Remove the custom ad blocker rule(s) and the page will load as expected.