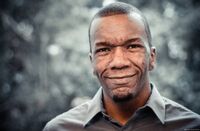 Jason Mott is the author of two poetry collections: We Call This Thing Between Us Love and "…hide behind me…" The Returned is his first novel.
Mott's poetry and fiction has appeared in various journals such as Prick of the Spindle, The Thomas Wolfe Review, The Kakalak Anthology of Carolina Poets, Measure and Chautauqua. He was nominated for a 2009 Pushcart Prize award.
Ad blocker interference detected!
Wikia is a free-to-use site that makes money from advertising. We have a modified experience for viewers using ad blockers

Wikia is not accessible if you've made further modifications. Remove the custom ad blocker rule(s) and the page will load as expected.